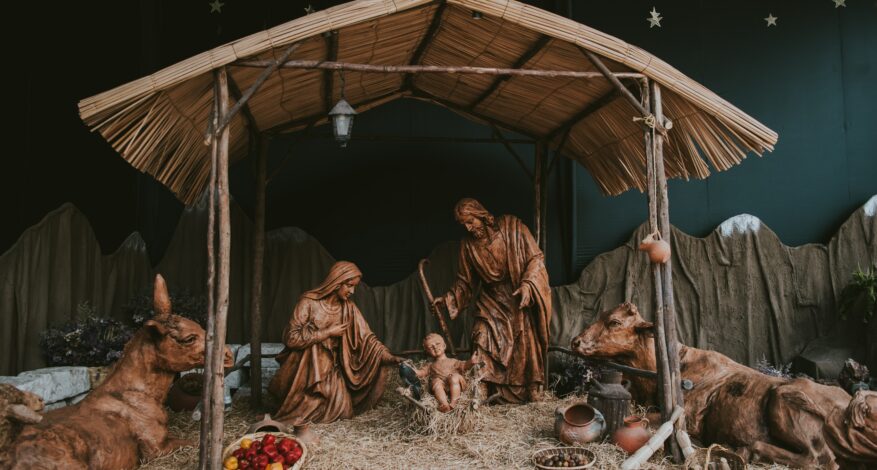 Priorities 
It was 2:30 PM Christmas day and it was time to rest.
The day before we went to church, came home, packed the car and went over to my mother-in-law's house. We were going there to celebrate Christmas with my wife's family. It had begun to snow before we left, so the ride over was a bit dicey. On the way I got some news that I had no control over, but in spite of that, it became a worry for me. For some reason, I let those kinds of interruptions overwhelm me.
Dinner was all prepared for us when we got to our destination . . . That year, I managed to not overeat. I think part of the reason for that was, I was consumed with the news I was dealing with, at the same time I tried to consume the food. Too much consuming going on! We stayed through the evening and left for home with a snowier than expected ride.  That night, when we got home, we began to get things ready for Christmas morning's activities . . . Brunch with my side of the family, at our house.
When we got up on Christmas, we began the process of cooking the food for brunch . . . Let's see, bacon, sausage, pancakes . . . Oops, shovel the snow . . . French toast, waffles, eggs, cheesy potatoes and more. The food was great! I'm always amazed at one thing though: After all of the time spent in preparation . . . The eating can be over in just moments.  Following brunch, we talked a bit about the real reason for celebrating Christmas . . . And then it was time to open the gifts.
After a delightful time, things drew to a close. When everyone left, we began to clean up. We did the dishes, took down the table and broke down the boxes . . . The my wife left to be with her mother who needed 24/7 care at her home. . . I find myself at home . . . alone . . . And wow, was I ever tired.
As I thought of how hectic the events of the last couple of days were . . . and how warn out I was, I was suddenly struck by what it must have been like for Joseph during that first Christmas. My hectic couldn't't compare.
Joseph didn't find himself on the way to a nicely prepared meal, in a comfortable home. In fact, Joseph had some real worries . . . He had to find a place for his wife . . . just to sleep. Traveling for days, with Mary on the verge of delivering a baby, couldn't have been easy. Talk about a couple of tiring, stressful days. I can't help but think that Joseph was pretty frustrated.   Spent, I'm sure he was ready to close his eyes and forget about the burden that was his. But that was not a luxury he had.
Why didn't God make things a bit easier for Joseph? After all, it was God who was writing the story. With all of the people traveling, it would have been just as miraculous for Joseph to find room in an inn . . . but if Mary and Joseph found themselves sleeping in a nice cozy bed, what reputable innkeeper would let shepherds come in to see a baby?
Stopping to pause a bit and consider that first Christmas, I realized that my level of frustration and comfort, though important to God, takes a backseat to His plan . . . His desire to reach people of His choosing. Come to think of it, I'm glad that, like in Joseph and Mary's case, the comfort of people isn't God's priority . . . For I too was a stinky old shepherd when Christ found me, and in my condition, I was still given a personal invitation to meet Christ.
Lord, I need to be more concerned about reaching people for you than I am about my things, or even my own comfort.  Your priority needs to be my priority.
Luke 2:1 In those days a decree went out from Caesar Augustus that all the world should be registered . . . 3 And all went to be registered, each to his own town. 4 And Joseph also went up from Galilee, from the town of Nazareth, to Judea, to the city of David, which is called Bethlehem, because he was of the house and lineage of David, 5 to be registered with Mary, his betrothed, who was with child. 6 And while they were there, the time came for her to give birth. 7 And she gave birth to her firstborn son and wrapped him in swaddling cloths and laid him in a manger, because there was no place for them in the inn.
8 And in the same region there were shepherds out in the field, keeping watch over their flock by night. 9 And an angel of the Lord appeared to them, and the glory of the Lord shone around them, and they were filled with great fear. 10 And the angel said to them, "Fear not, for behold, I bring you good news of great joy that will be for all the people. 11 For unto you is born this day in the city of David a Savior, who is Christ the Lord . . .
15 When the angels went away from them into heaven, the shepherds said to one another, "Let us go over to Bethlehem and see this thing that has happened, which the Lord has made known to us." 16 And they went with haste and found Mary and Joseph, and the baby lying in a manger.  (biblegateway.com, ESV)
More than just a believer in God, I need to be a follower of Jesus!