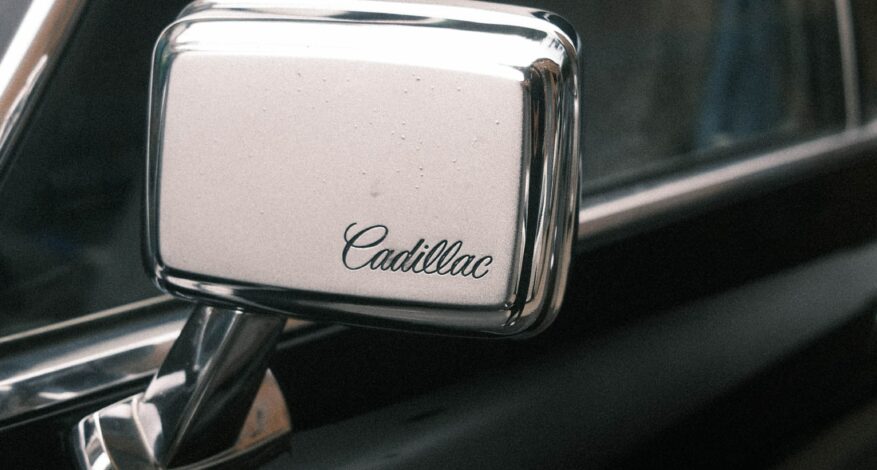 Undaunted
Growing up, we seldom had a brand-new car. I can only remember one, and it was an ugly lime green with paisley upholstery. The reason for the bad taste in the vehicle's look was, my dad went into a dealer and said, "I want a car that you have had on the lot for a long time . . . A car that's costing you money to keep". And that's what came out. But he got a bargain.
In searching for bargains in future car purchases, my dad concluded that it would be a good idea to buy used Cadillacs, thinking that Cadillac owners took good care of their cars. So, the next used cars we owned were Cadillacs.
My dad kept cars until they were ready to die. When one Cadillac he owned was approaching the terminal stage, he asked if we wanted the car for free. Excited to inherit a free car, I said, "I'll take it!". It wasn't in great shape . . . in fact it was stolen once and later found under a streetlight, unharmed. My guess is, the thieves realized that the risk was not worth the reward and left the car. At any rate, I was excited to have a "New to us" vehicle.
My excitement was short lived. I worked at a church. I pulled into the lot in my "free Cadillac" on Sunday, and parked. Almost immediately someone said, "Wow, a Cadillac." When I heard those words, it was as though I pulled in with a brand-new car. If my tongue wasn't pushing out on the side of my cheek for them to see, in my mind, my tongue was there. Then came the words, "Hmm, we must be paying you too much." From that day on, I was affected by what was said. My joy was tempered by what I thought others were thinking . . . or worse yet, what others might be saying about me. My perception of what others thought of me, affected me.
With Christmas approaching, there will be a number of times when I will consider the events around the birth of Christ. Because the story is so familiar, I often just rush through the events with little thought as to what was really happening.
Mary must have been elated when she heard the news from the angel that she was to be the mother of Jesus. I'm sure that there were times when she probably thought, "How could it be that out of all of the people, in all of history, I would be chosen to be the mother of Jesus, God's Son?" I wonder how long it was before the "Cadillac syndrome" hit?
What would Joseph say? He knew he wasn't the father . . . Would I have believed the story that Mary was telling? I mean really?
Things maybe got a little bit better when it was revealed to Joseph that Mary's story was true. But, the news Joseph got really only sent the talk out into the streets. People must have concluded that Joseph and Mary were not the pure individuals that they had portrayed. I'm sure people talk. Even if they didn't, I'm sure that when Mary walked in public, her thoughts must have gone to, "What are people thinking . . . What are people saying?".
As I thought deeper about the very beginning process of Christ coming into our world, I realized that there were so many things that I could learn from those events.
For Mary to be chosen as the mother of Jesus, I would assume that she was someone who strove to honor God in her life. Even the words, "Greetings oh favored one" when the angel met her with the announcement alludes to that. Mary even said just the right thing in response to her overwhelming news: "Behold, I am the servant of the Lord; let it be to me according to your word." It seems like she did everything right and yet the angel did not reward her by saying "Because you have a godly attitude, I'm going to make sure this is going to be easy for you".
God could have sent an angel to Joseph at the same time as Mary . . . but He didn't. Why? It would have been easier on both of them . . . Or God could have had them hear the news when they were together. That would have been even easier! Instead, there was a delay . . . Joseph was left distraught for a time and I'm, sure that at some point, Mary must have been worried about Joseph's reaction when she gave him the news.
There are so may things I could write regarding the difficulties that Mary faced as she carried Jesus. One conclusion I have come to is: Even when Mary was in the center of God's plan, her life was not easy. She was talked about; she was misunderstood and later she found herself in less than optimal conditions. If that was the case for Mary, I should expect no different.
Lord help me to be governed by your leading rather than how I believe others may perceive me. I need to remember that You alone are the one I need to answer to. My response should echo Mary's: "Behold, I am the servant of the Lord; let it be to me according to Your Word."
Like with my goofy old Cadillac, there will always be those who will talk. I can't control their words. I mustn't allow my mind . . . and then my actions . . . to be governed by the thoughts and talk of others. God, You never said that following You would be easy . . . Not even for Mary.
John 1:26 In the sixth month the angel Gabriel was sent from God . . . 27 to a virgin betrothed to a man whose name was Joseph. . . . And the virgin's name was Mary. 28 And (the angel) . . . said (to Mary), "Greetings, O favored one, the Lord is with you!" 29 But she was greatly troubled at the saying, and tried to discern what sort of greeting this might be. 30 And the angel said to her, "Do not be afraid, Mary, for you have found favor with God. 31 And behold, you will conceive in your womb and bear a son, and you shall call his name Jesus. 32 He will be great and will be called the Son of the Most High. . ."
34 And Mary said to the angel, "How will this be, since I am a virgin?"
35 And the angel answered her, "The Holy Spirit will come upon you, and the power of the Most High will overshadow you; therefore the child to be born will be called holy—the Son of God. . . 38 And Mary said, "Behold, I am the servant of the Lord; let it be to me according to your word." And the angel departed from her.
Matthew 1:18 Now the birth of Jesus Christ took place in this way. When his mother Mary had been betrothed to Joseph, before they came together she was found to be with child from the Holy Spirit. 19 And her husband Joseph, being a just man and unwilling to put her to shame, resolved to divorce her quietly. 20 But as he considered these things, behold, an angel of the Lord appeared to him in a dream, saying, "Joseph, son of David, do not fear to take Mary as your wife, for that which is conceived in her is from the Holy Spirit. 21 She will bear a son, and you shall call his name Jesus, for he will save his people from their sins.
More than just a believer in God, I need to be a follower of Jesus!