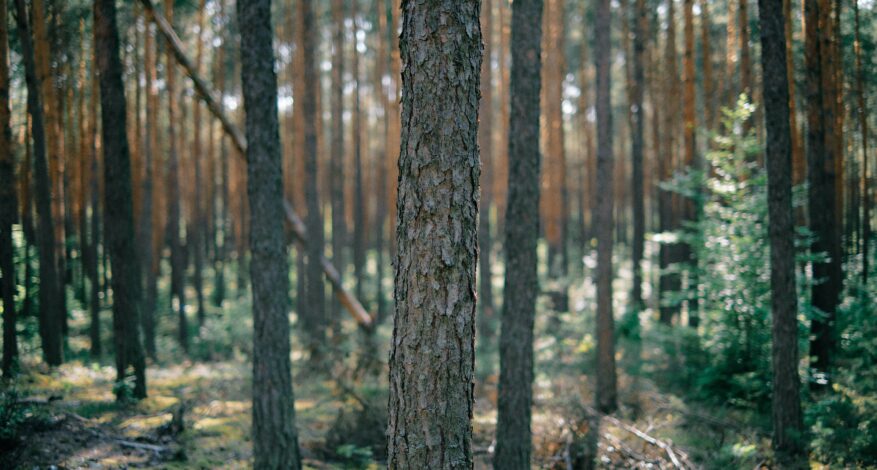 Willing to be Stretched
In the past, I've told of a quad adventure that I was on in the wilderness of Wikwemikong, on Manitoulin Island. As I read from the Bible in the book of Joshua today, I was immediately taken back to the trails I went down while on the quad with my guide.
As I think back, I'm confident that if I was alone on that venture, my journey would have been very different . . . Okay, if I were honest, it would have been nonexistent.  I would have stopped at the first obstacle.
Visions of nicely groomed, well-traveled, paths through the woods would not describe the conditions we encounter when we're on the quads.  I'm sure that if I was on my own, only several feet off the main road and into the forest, I would most likely come to a puddle . . . no . . . to a deep pool of water stretching across the path. I would stop there . . . and after my evaluation of the situation, my response would be. . . "It's too wet out here today, we'll have to go home and come back another day . . . Yes, that's it, I'll come back on a day when things are dried up."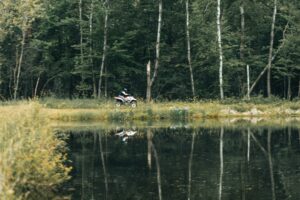 In contrast to that, my well well-traveled guide doesn't even flinch at water covered paths . . . We plow through the water before I can say, "Do you think we should? . . .  With him obstacles we face, throughout our trips, become "Wow" experiences.  Trees that are fallen across the path, water holes, swamps, ruts, dips, steep hills and turns, quickly become experiences that grow a confidence, in me, that we can overcome far more than I ever imagined.
Well, eventually the time came . . . I was put in the driver's seat of the quad.  Driving down through the wilderness, a couple of times I thought it best to try and go off the path to go around an obstacle . . . I was quickly told to stay on the path. Eek!  I learned not to turn to the right or the left . . . many of the obstacles had to be met straight on, with confidence . . . anything less would have left us mired in the water and mud.  Had I relied on my abilities, I would have experienced a day of sitting on a quad, like on a horse in front of a store waiting for a penny to be put into the slot. Ho-hum, how exiting is that?
In the first chapter of Joshua, he was told that he was not left alone.  He had the instruction of the Word of God and the guidance and power of the Lord.  The obstacles they were about to face were daunting! . . . But God . . .
God delights in using the simple to confound the wise.  That tells me that my "Adventures" through life are not dependent on my abilities, but rather, on my obedience.  I need to trust God, knowing that there is no such thing as an obstacle to Him . . . Obstacles are only opportunities to take me on spectacular adventures, for His glory.  I have a choice to make every day . . . I can sit on a coin operated horse in front of a store . . . or . . . I can opt for a four-wheel adventure though the forest . . . Who knows, maybe into uncharted territory.  My God is so big, so strong and so mighty . . . There's nothing my God cannot do!
Lord, help me trust You, knowing that in Your hands, my obstacles become great adventures waiting to unfold into spectacular God stories for Your glory.
"Only be strong and very courageous, being careful to do according to all the law that Moses my servant commanded you." . . . "Do not turn from it to the right hand or to the left, that you may have good success wherever you go."
Joshua 1:1 After the death of Moses . . . the Lord said to Joshua . . . Moses' assistant, 2 ". . . arise, go over this Jordan, . . . into the land that I am giving to . . . the people of Israel. 3 Every place that the sole of your foot will tread upon I have given to you, just as I promised to Moses.4 . . .5 No man shall be able to stand before you all the days of your life. Just as I was with Moses, so I will be with you. I will not leave you or forsake you. 6 Be strong and courageous, for you shall cause this people to inherit the land that I swore to their fathers to give them. 7 Only be strong and very courageous, being careful to do according to all the law that Moses my servant commanded you. Do not turn from it to the right hand or to the left, that you may have good success[a] wherever you go.
8 This Book of the Law shall not depart from your mouth, but you shall meditate on it day and night, so that you may be careful to do according to all that is written in it. For then you will make your way prosperous, and then you will have good success. 9 Have I not commanded you? Be strong and courageous. Do not be frightened, and do not be dismayed, for the Lord your God is with you wherever you go."
10 And Joshua commanded the officers of the people, 11 "Pass through the midst of the camp and command the people, 'Prepare your provisions, for within three days you are to pass over this Jordan to go in to take possession of the land that the Lord your God is giving you to possess.'" 
(biblegateway.com, ESV)
More than just a believer in God, I need to be a follower of Jesus!